How to register an Amazon Seller account in 2021
A huge range of goods, well-developed logistics, excellent customer service have made Amazon the most attractive online shopping platform for millions of customers. Many US users in search of a desired product first search for it on Amazon, not on Google. Therefore, for sellers, this is a real source of "hot" traffic and potential profit. But before you can make money on Amazon, you need to register and become a seller in the system. While in Ukraine, it is not a problem to start selling in the United States in the vastness of the largest online store. And we will tell you in detail how to do it quickly and efficiently!
What types of sellers can be registered with Amazon?
Today, the Amazon system allows you to register 2 types of sellers.
Individual Seller. As the name suggests, it allows the user to register as an individual (private) seller. In fact, this means that you do not need to pay a monthly commission for using Amazon. But for each product sold, you pay a commission – $ 0.99. Individual sellers also cannot list more than 40 items per month. This type is suitable for small-scale sales, small businesses, as well as sellers of hand-made products.
Professional Seller – status for a professional seller who may have a registered Private Label brand. With such an account, you are required to pay a monthly fee of $ 39.99, but you get a number of benefits:
the ability to display an unlimited number of products per month;
the ability to form an unlimited number of listings (pages of product descriptions, its characteristics with the inclusion of keywords);
access to Amazon metrics, sales reports;
access and the whole tool for the advertising promotion of their products;
the ability to configure remote access to an account to delegate authority;
possibility of batch unloading of goods;
savings on commissions.
This option is appropriate for medium and large businesses. Which one is right for you, you need to determine based on the goals, the number of planned products and the expected profit. In any case, you can always switch to the Professional Seller status from an individual seller in the settings of your personal account.
How to Sell on Amazon – Seller Registration Steps
So, you have decided on a product / niche and want to start active sales on the worldwide Amazon platform. What is needed for this:
The first thing to do before selling on Amazon is to become a seller in the system. To do this, go to the main page of the site and click on Account & Lists in the upper right corner.

Since you don't have an account, click on Start here. In the window that opens, enter the required data: name, e-mail, password, password repeat. Then click Create your Amazon account.
This will take you to a second screen asking you to enter in a one-time password (OTP) generated by Amazon, which will be sent to the email address you provided in the previous screen. This is Amazon's way of verifying the email you entered. After you've added that OTP to its corresponding field, click the 'Create your Amazon account' button.
The next step in the Amazon seller registration process is to share the following information:
Your business location: the country in which your business is located. It's extremely important that this is accurate, as Amazon will be verifying it.
Your business type: You'll be able to choose your business entity from the following options (most fall into the 'Privately-owned' category):

State-owned business
Publicly-owned business
Privately-owned business
Charity
None, I am an individual
In addition, enter your full name. When registering a business, enter the name of the Private Label or registered company, which will be further displayed in your products (for example, Followise student Inc.).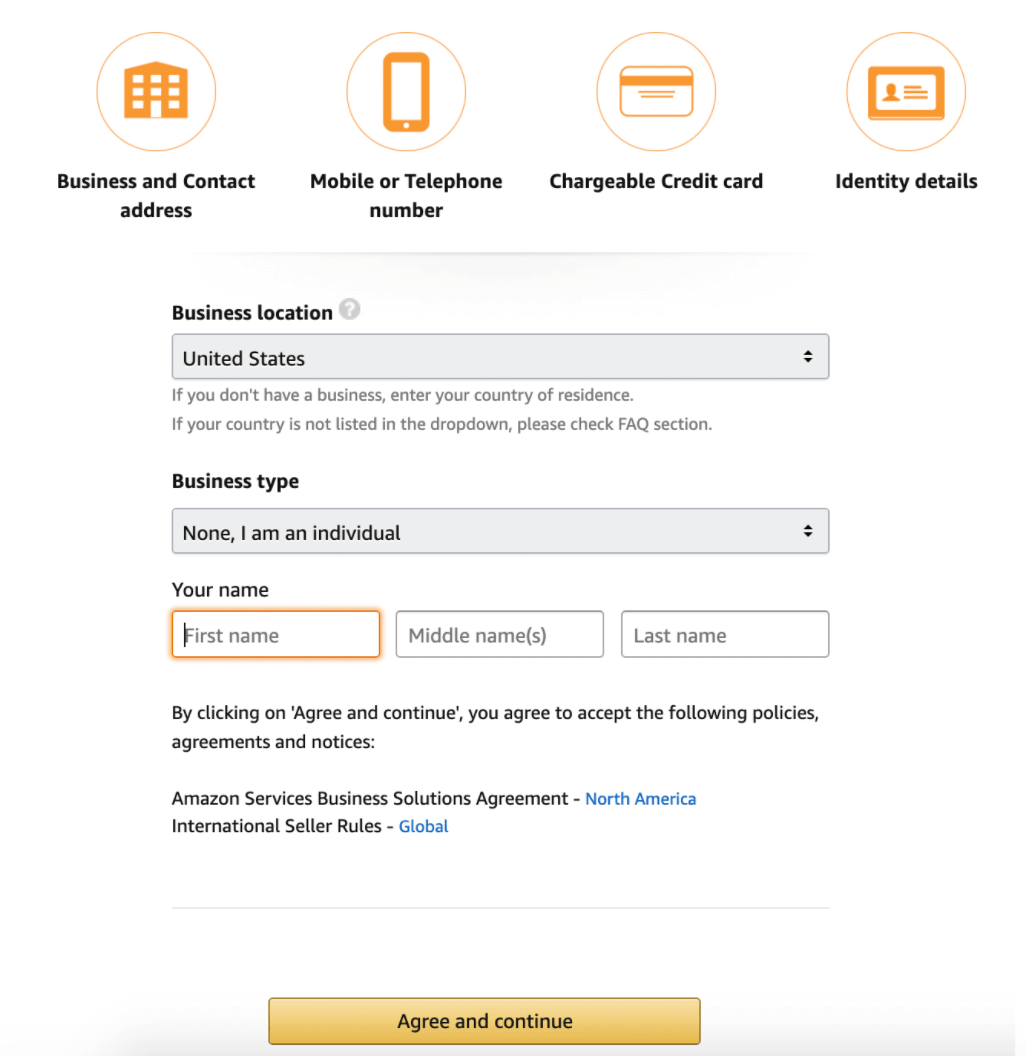 Click the 'Agree and continue' button.
Enter all of the seller's details: address, zip code, country of residence, select a unique seller name, and optionally enter your website's web address (if available).
Next, in the window that appears, you need to fill in the payment information, which consists of 2 blocks: Set up your billing method – card data that can be taken from a bank card of Ukraine and Set up your deposit method – data of an American bank account. Here you have 2 options: get a Payoneer card or register in your native system – Amazon Payments.
Option #1 – you need a Payoneer card, which you need to obtain and activate before registering on Amazon, because you will need data from your Payoneer account. The bank account must have existed for at least 90 days and must have cash flow. Also, the bank card that you attach to your Amazon account must have at least $ 50 and the ability to make Internet payments from $50 at a time.
Option #2 – register in the Amazon Pay payment system, where you can perform all the necessary operations (both sales and purchases in the online store). However, the service is not free. For each transaction made, Amazon takes a commission of 2.9% of the total transaction amount, as well as $0.33 from every purchase over $10.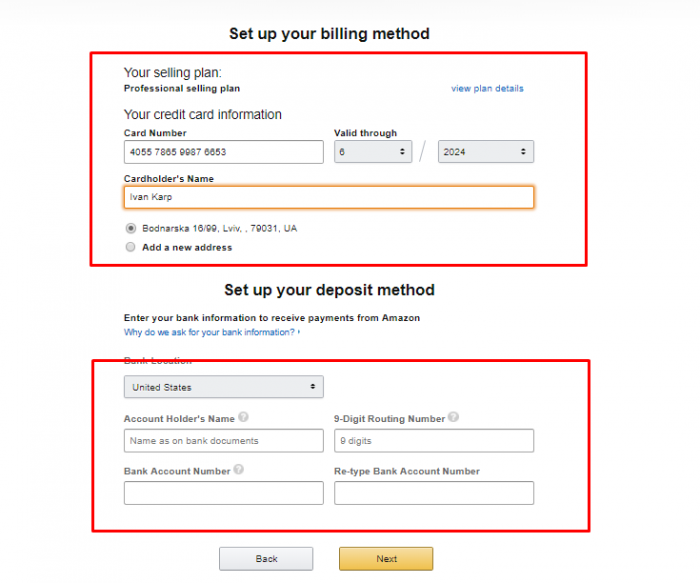 The next section will be Tax information. If you are a US resident, check "Yes", if not, check "No" and then click on Save and Continue.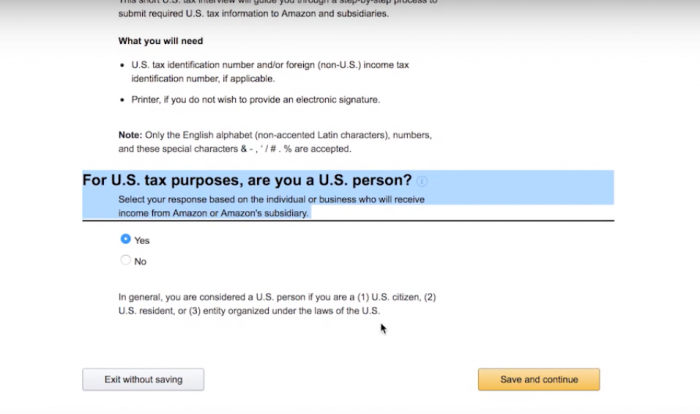 After that, the system asks you to enter the data of your organization. In the Name field, you enter either the name of your Private Label (if you register for a Professional Seller account) or your name as an individual seller. All subsequent fields will be automatically completed using your previously completed seller location data. Click on Save and Continue.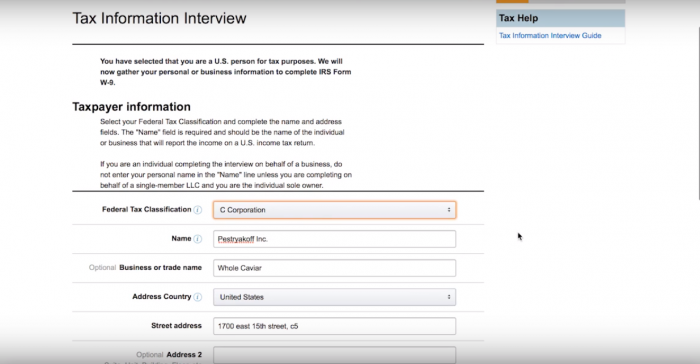 Then you will be asked to fill out the data in the interview on tax reporting, and documents for signature will also appear. To sign them, you must request to send them by e-mail to speed up the process, because electronic signature and verification is much faster. If the reporting forms are sent to the postal address, the signature should be affixed manually and sent back to the address indicated on the envelope. In any of the options, after passing the questions, click Exit Interview.
Congradulations, your the seller's registration is completed.
For more information on how to Sell on Amazon, check our Followise programs – the first business training academy on the world's largest marketplaces.